Commercial Application of Solar Street Light
Solar street lights are fast growing in popularity all over the world. Not only solar street lights are inexpensive mediums of lighting up the roads, but they are also sustainable and environmentally-friendly.
Each solar street light system consists of several core components. A modern solar street light has embedded solar panel, inbuilt lithium-ion batteries, battery management system, night and motion sensors as well as automatic controls. The fully automatic device comes with LEDs, inbuilt and replaceable Lithium-ion battery and passive infrared (PIR) sensors. A typical solar street light is weather-proof and water-resistant, has low insect attraction rate and low glare and has a longer life. This is why people consider using solar street lights to their advantage and do their part to conserve energy, optimize your off-grid system and decrease your costs, such as maintenance and monthly electricity bills.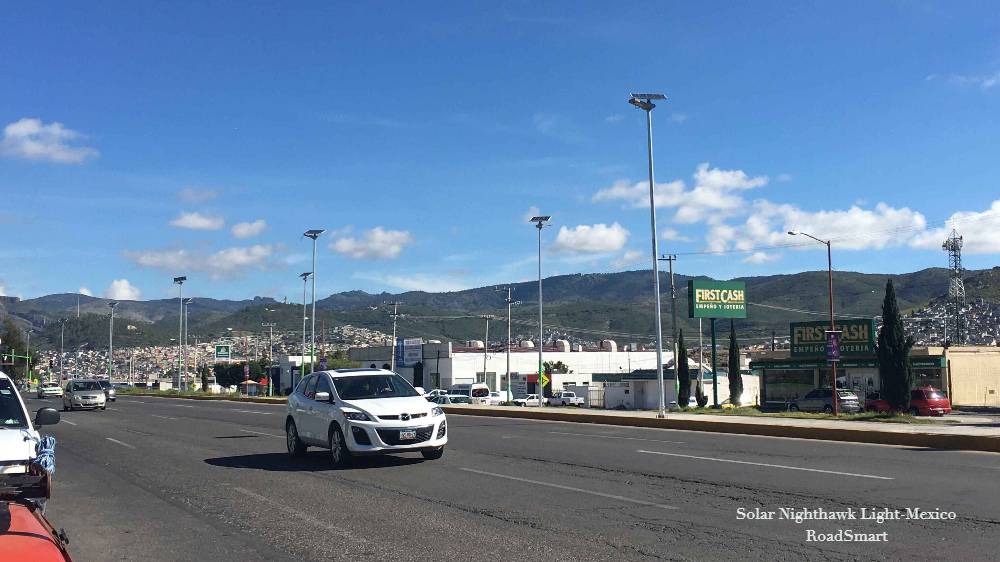 (Mexico installation case)
Thanks to advances in solar panel, battery, and LED technologies, commercial solar outdoor lighting is now more reliable than its grid-tied counterparts, and it provides a higher quality of light for a lower cost. Indeed, the cost of solar outdoor lighting has benefitted from synergies in technological innovation in three key areas:
Reduced cost of solar panels: In recent years, the cost of photovoltaic panels has dropped precipitously.
Improved battery technology: The growth in the hybrid and electric car markets has improved battery technologies and as a result, compact, highly efficient, longer-lasting rechargeable batteries come out.
Improved LED efficiency: LED lighting is also gaining in efficiency, which translates to more light with less power, or greater efficacy (more lumens per watt), which equates to a reduced cost for the same lighting output.
As a result of these trends, commercial solar outdoor lighting is now more economical than grid-tied options in many situations. These include situations in which the existing electrical infrastructure is remote or nonexistent, such as perimeter security and greenfield construction, or in which there is a reluctance to disturb the existing paving or landscape — i.e., parking lots, roadways, outdoor storage areas, parks and trails, playgrounds, and campuses.
Solar street lights are beneficial for the lighting needs of parking lots and parks as they help to illuminate signs, pavilions and trails. Many airports are powered with solar LED lights at their runways for safe aircraft operations. Stadiums can also be powered with commercial solar street lights to provide high power lighting during cricket or football matches at night. Solar street lights are also being placed on national highways, port terminals, truck rest points, warehouses, industrial and construction sites, rural areas and other municipal applications.
Since solar street lights are independent of the grid and with no electricity cost, they can be installed easily in a remote street or highway where there is no access to grid electricity. Commercial solar street lights require no external wires or trenching for their installation and need only minimal upkeep. Therefore, installation and maintenance costs will be lower when compared to conventional street lights. Most often, authorities and civic sources hesitate to implement outdoor lighting systems due to budgetary restrictions. Since solar energy is free and available in abundance, solar street light is a cost-efficient long-term investment.
Commercial solar street lights operate automatically with dusk to dawn feature and do not need any type of manual intervention to switch on or switch off the lights. The lights should be installed in a shadow-free area where the panels can receive direct sunlight throughout the day.
Road Smart's solar street lights are engineered to a commercial grade, built to last the test of time and practically maintenance free. Installation is typically quick, easy and often at a lower cost compared to expensive electric cable trenching. We spare no effort to produce high-quality solar street lights and provide excellent service for customers.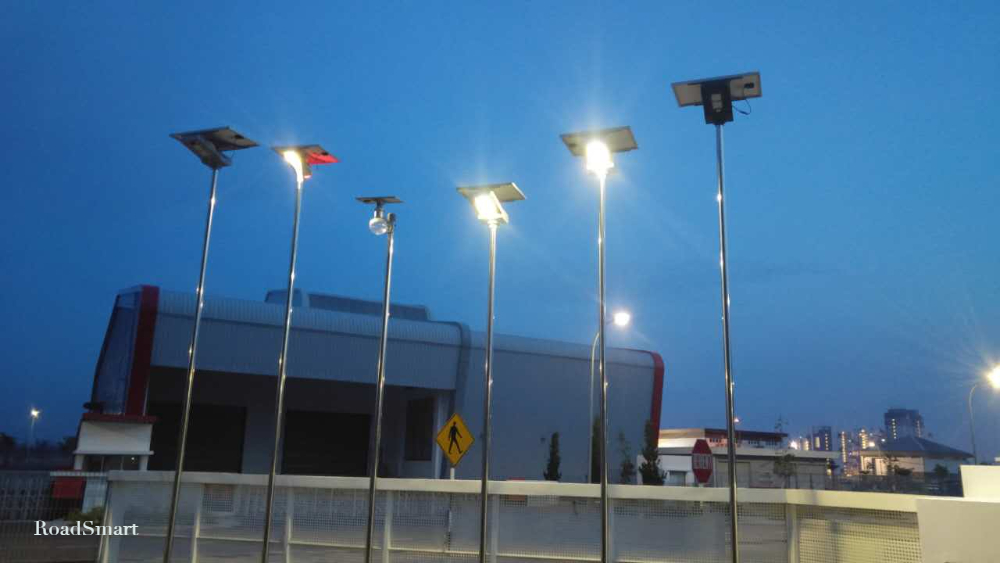 (Singapore installation case)