What's the benefit of using lithium battery in solar street light?
Lithium battery is a kind of controllable, non-polluting energy storage dry battery, which is more stable and safer than lead-acid storage battery. They are different. The service life of lead-acid storage battery is only two or three years, while the service life of lithium battery can be up to ten years. Besides, the service life of LED light source in the solar street light is around fifty thousand hours, which amounts to ten years. Therefore, the lithium battery can perfectly match with solar street light system, so that it is unnecessary to change the battery frequently.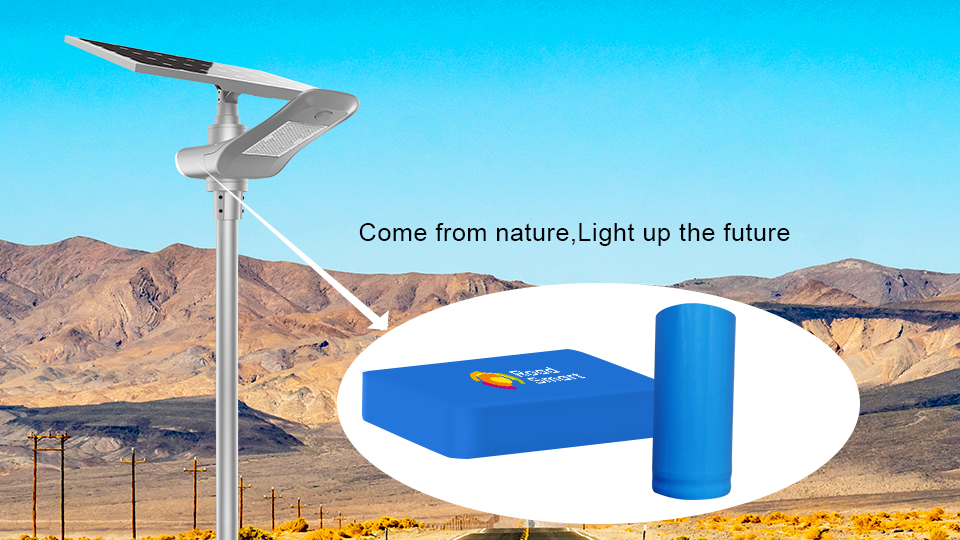 Lithium batteries are small in size, light in weight, and easy to transport. Compared with the lead-acid gel battery used in the solar street light with the same power, the weight of lithium storage battery is about one-third and the volume is about one-third. Lithium batteries have high energy density and longer service life. Energy density refers to the amount of energy stored in a certain unit of space or mass. The greater the energy density of a battery, the more electricity stored per unit weight or volume. Lithium batteries are pollution-free, while lead-acid batteries will pollute the environment with metal lead.
Lithium battery is more intelligent. The solar street light with lithium battery is able to make intelligent and optimized calculation on battery capacity, operating time and weather condition according to the users' demand. Lithium battery can adapt to hostile environment, whose working temperature range is -20℃--60℃. It can function normally even in the northern area with temperature of -45℃.
The solar street light with lithium battery is easy to maintain. When maintaining the solar street light, we only need to take the battery from the lamp post or the solar panel. However, when maintaining the traditional street light, we need to dig out the buried battery, which is much more troublesome than lithium battery solar street light maintenance.
During the day, the solar panel receives solar energy and converts it into electricity, which will be stored in the battery. At night, when the illuminance gradually decreases to about 10lux and the open circuit voltage of the solar panel is about 4.5V, the charge and discharge controller will detect the value and the battery will start to discharge the lamp holder. The storage battery will stop discharging after 8.5 hours. The main function of the controller is to protect the storage battery.