Solar Street Light Troubleshooting Method
1、Indicator Lights
When the solar charge controller powers on, it will detect itself. If it passes the self-inspection, the three indicator lights will light up for about 10s. If not, only the red indicator light will light up to indicate the fault. Generally, the fault is caused by the wrong parameter setting. Please reset the parameters and restart the solar charge controller to see if the problem is figured out.
2、The Solar Charge Controller
Solar charge controller is the central component of the whole solar street light system, which controls input voltage, input current, output voltage and output current of battery, LED light source and solar panels to prevent the battery from overcharging or overdischarging. If the solar panels can not charge the battery, the lighting time will be irregular and the current will be unstable. If the indicator light of the controller flashes abnormally or does not light up at all, then the controller needs to be replaced.
3、Lighting Time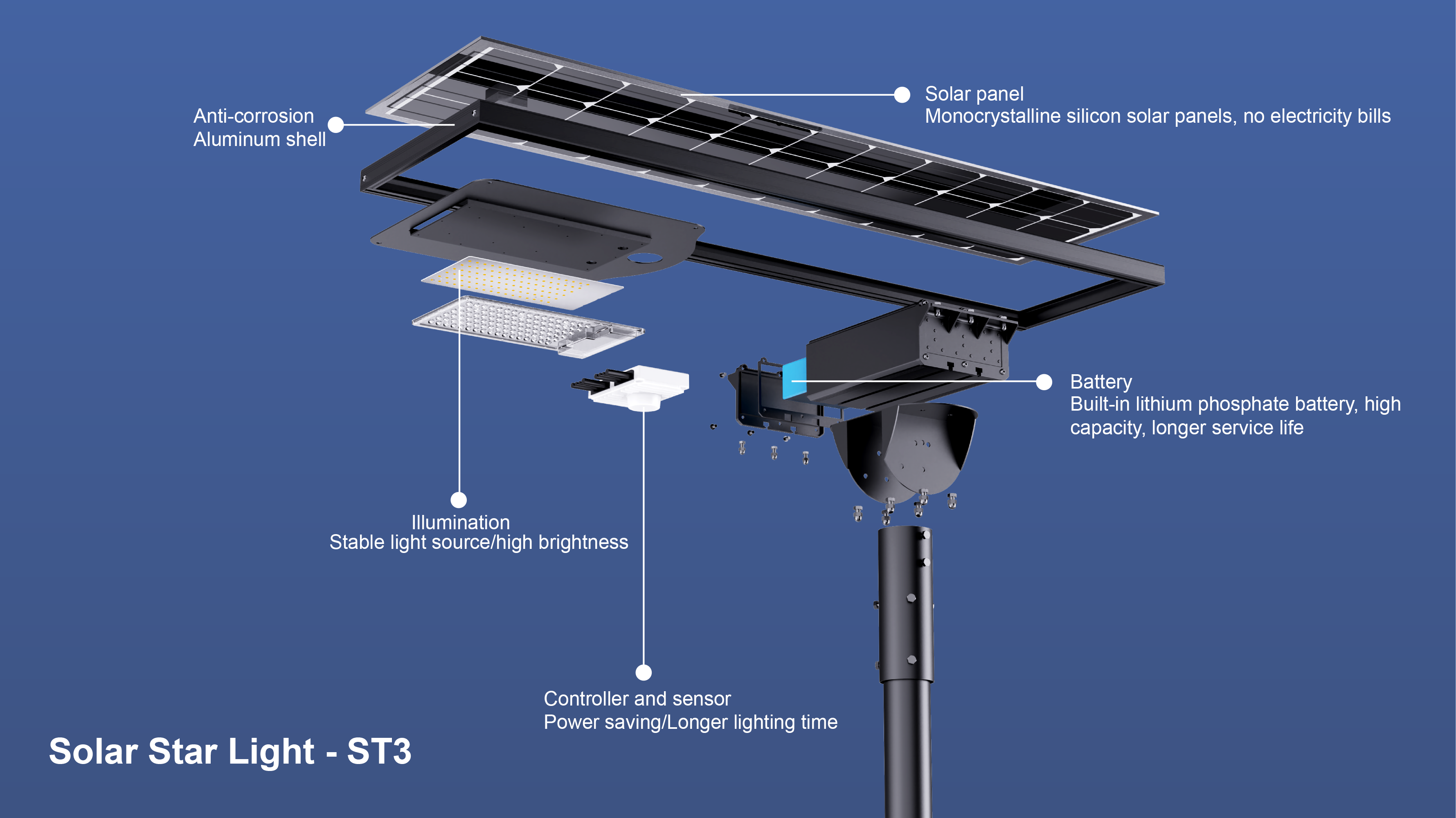 Sometimes the lighting time of the solar street lights in the same road is not same. Actually, the lighting time of solar street light depends on the solar panel voltage. At the same time, the output voltage of solar panels will differ based on the location, irrigation angle and cleanliness. Therefore, the lighting time will be inconsistent. Generally, it is normal that the lighting time difference is less than 10 minutes. If it is more than 10 minutes, you should check whether the solar panels are sheltered by something or not.
4、Solar Street Light Battery
The gel battery features long service life and no maintenance, which is widely applied to the solar street light. The battery damage will directly affect the effective lighting time. The simplest method of detecting battery fault is to charge the battery for four hours under sufficient sunlight and then use the multimeter to check the voltage and current of both electrodes of battery. Compare the measured values with the values that are marked on the battery surface. If they are inconsistent, you need to change the battery.
5、Power Supply System
If the solar street light can not light up, first you need to check the components which may be damaged. The you should consider of the power supply system. You can check the overcharge voltage value and overdischarge voltage value. But in solar street light system, there are few charging problems based on the annual average data. Then comes to the discharging problem. Basically the overdischarge voltage of storage batteries from different brands is 10.5V. The discharge rate of battery is 0.1C, while the discharge rate of solar street light system is 0.025C. The battery electricity will run out under the circumstance of insufficient sunlight such as winter and continuous rainy days.
The above are some of the solar street light troubleshooting method. We hope they will help you figure out the problems.