Introduction to Integrated Solar Street Light
With the increasing awareness of environmental protection and current global energy crisis, more and more countries gradually began to pay attention to the use of solar energy. Solar street light is a common solar product. The solar lighting technology has evolved considerably and been constantly changing since its initial production and launching.
With the help of remarkable advancements in solar lighting technology and people's vision to produce cost-effective compact solar street lights, they have created integrated solar street lights. These street lights have high efficiency, prolonged backup and acquire the best overall performance better than the older versions of solar street lights, making them widely used today.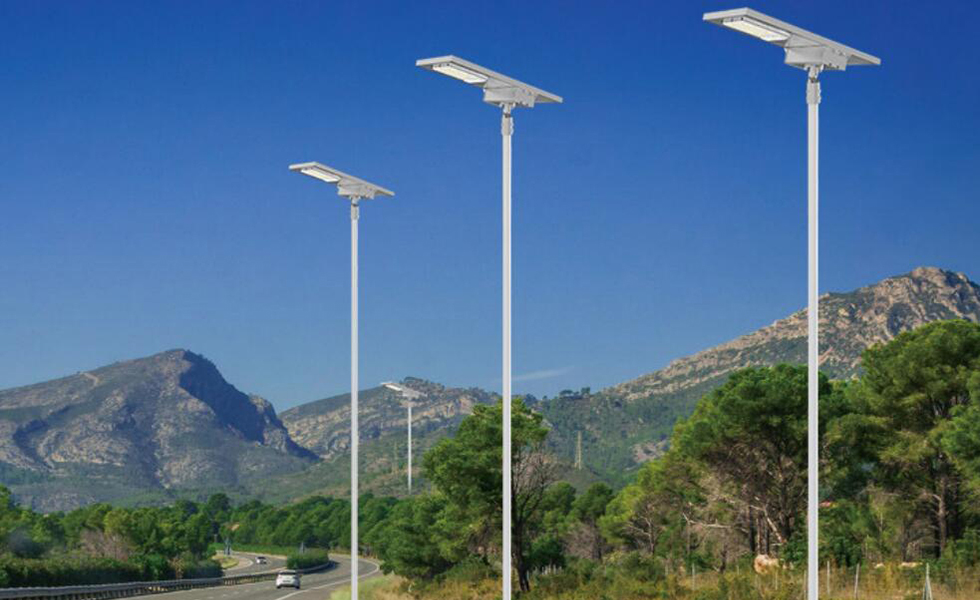 What is integrated solar street light
Integrated solar street light is a contemporary outdoor lighting solution and have become famous in the recent times due to their compact, stylish and lightweight designs. From the word itself, "integrated" combined several components in one product. It comes with solar panels, LED fixtures, LED driver technology, a lithium-ion battery with advanced charging technology, a PIR motion sensor, and other smart technologies and electronics all compacted in one body with a mounted pole stand. The integrated solar street light can easily be mounted on a pole top.
The main components
Solar Panel---This is one of the most important parts of an integrated solar street light. Solar panels will convert solar energy into electricity.
LED Fixture---This is commonly used as the luminary of a modern solar street light. LED fixtures provide higher lumens with low consumption of energy. Energy consumption of LED fixture is just about half of what traditional HPS fixtures require.
Rechargeable Battery---Connected to the solar panel, batteries are involved in storing electricity during the day & for providing electricity to the fixture during the night. While the battery capacity will affect backup time of the light, the life cycle of the battery is a very important factor. Lithium ion batteries are most popular these days as they are compact in size and can integrate well within the street light.
Mounting Pole---Since there are components mounted on top of the pole, strong poles are necessary for all street lights. Solar panels, fixtures and batteries compose an integral part of a solar street light. Solar panels and all electronics are integrated into the pole itself in some newer designs.
How does integrated solar street lights work
The solar panels of integrated solar street light convert solar energy into electricity and then recharge the storage batteries. During the day, even on cloudy days, the solar panel collects the energy needed for storage and automatically supplies LED lights at night, enabling night lighting.
The integrated solar street light uses a PIR motion sensor that automatically adjusts the brightness of the LED light when it detects movement at a near distance. When it detects any body movement near the light post, the LED fixtures will adjust and produce full brightness. Then, when it no longer detects movement, it automatically reduces its brightness.
Why choose integrated solar street light
Integrated solar street lights bring a lot of benefits to consumers. Here are some of these benefits.
Easy transport and installation
With its compact size, it is easy to ship plus it has an easy installation process that can be done in a few minutes only. When installing integrated solar street lights, there is no complex wiring process, unlike the traditional street lights. If you're only new to this, you can still install it without difficulty because it doesn't require an engineering or electrical background and skills in setting it up.
Lower shipping cost
Because integrated solar street lights are compact in structure and have an all-in-one design, the shipping cost is also lower. Besides, these lights are lightweight which makes the transportation and installation effortless.
Lesser energy consumption
LED technology is used to deliver brighter light consuming lesser energy.
An LED fixture has significantly boosted the luminous efficacy up to 200 lumens per watt. Also, with the aid of solar batteries, consumers can still get the same brightness at night while consuming much less energy. Integrated solar street lights equipped with this kind of light source can easily get 5+ days autonomy, making it possible to operate normally in areas with constant rainy seasons.
Minimal to zero maintenance
Compared to traditional street lights, integrated solar street lights require minimal to zero maintenance due to their materials and compact design. They are waterproof, shock proof, rust proof and resistant to adverse weather conditions.
Investing in integrated solar street light seems to provide you with utmost benefits. Although the initial investments seems high but in the long run this kind of solar street lights will prove to be providing a longer life cycle even with extensive use. Road Smart produces safe, efficient and cost-effective integrated solar street lights and provides you with great after-sales service.